BARRY SANDERS

NEWS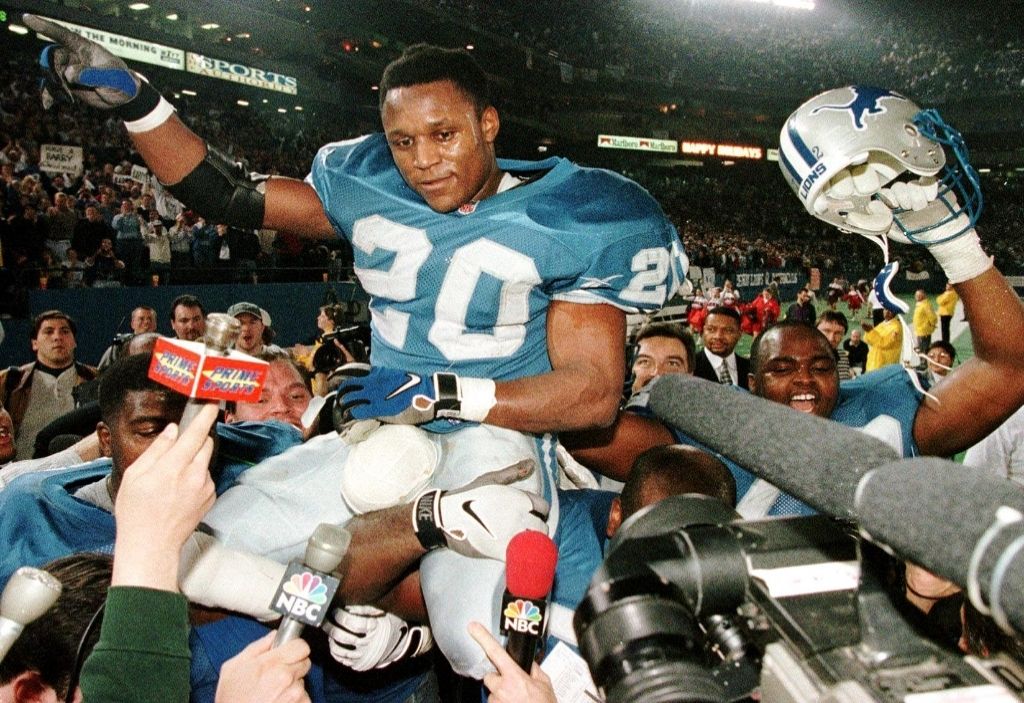 | | |
| --- | --- |
| Jun-27 | |
Like many of the other 10-year spans we've covered in Decades Month thus far, the 1990s were absolutely packed with great players, which made narrowing down the 20 best quite challenging -- as those who read my takes on the top talent from the '70s and '80s might have guessed.

Jim Kelly, who turned the Buffalo Bills from also-rans into one of the premier teams of the 1990s by leading them to four consecutive Super Bowls, didn't make the cut. And the Hall of Famer wasn't the only prolific passer to miss out; Warren Moon, who made the Pro Bowl with three different clubs in the era, certainly belongs in the 21 to 30 range. Dan Marino had four Pro Bowl selections of his own during the period, but his best days were behind him by the mid-'90s.

The same goes for Larry Allen, who really established himself as a dominant offensive lineman in the latter half of the decade, as well as some of the guys Allen had to block. Kevin Greene immediately comes to mind. So does Neil Smith. A couple of Smith's teammates on the two-time champion Broncos, Shannon Sharpe and Steve Atwater, were also left out.

That said, the three guys who were absolutely agonizing to relegate to the honorable mention category were Cortez Kennedy, John Randle and Ricky Watters. Kennedy and Randle were truly phenomenal players who were not able to lift their teams to postseason success. Watters' production was difficult to overlook, but I couldn't put him over the backs listed below. Feel free to share your take on the top 20 players of the '90s ... @HarrisonNFL is the place.

20) Terrell Davis: Had the running back's career started earlier and lasted longer, Davis would have ranked far higher. Too many Hall of Famers played the entire decade.

19) Marshall Faulk: Faulk didn't hit his stride until his monster 1998 and '99 seasons, and though he was MVP in 2000, that doesn't fall within the specs of this list. Still, his '99 campaign ... 1,000 yards rushing and receiving.

18) Thurman Thomas: The Hall of Fame running back was the most underrated player on the Buffalo Bills' four Super Bowl teams. He led the NFL in yards from scrimmage in 1990, '91 and '92.

17) Rod Woodson: Woodson was the era's premier defensive back not named Deion Sanders, intercepting 46 passes during the decade.

16) Cris Carter: Average playoff numbers keep him below Jerry Rice and Michael Irvin on the list. He had incredible production from 1993 through '99, recording 683 total catches and two 122-reception seasons during that stretch.

15) Bruce Matthews: An All-Pro or Pro Bowl selection every year of the decade, the first-ballot Hall of Famer also didn't miss one game from 1988 until the end of his career in 2001.

14) John Elway: He became a smarter quarterback as the '90s wore on, winning back-to-back Super Bowls in his late 30s. Unfortunately, Elway had trouble staying healthy.

13) Michael Irvin: When it comes to the best receiver of the era, Irvin gave Jerry Rice competition. His numbers from 1991 to '95 represent the best five years a wideout ever had in terms of individual stats (7,093 yards, 38 touchdowns) and team accomplishments (three Super Bowl titles).

12) Randall McDaniel: He was the best offensive lineman during the decade, period. It's not even debatable, really.

11) Junior Seau: The star linebacker's play never wavered during the '90s, regardless of whether his Chargers teams were winning or losing. In 1991, he earned the first of 12 straight Pro Bowl selections.

Now let's dive into the top 10 players of the decade, all of whom could surely play in today's game, starting with the next man up on our list.

10) Derrick Thomas: Thomas started the decade with a rare 20-sack season. There were times when he simply took over a game. Thomas made the Pro Bowl eight times during the '90s, but, more importantly, cemented the changed nature of the linebacker position in the wake of Lawrence Taylor's dominance in the '80s.

9) Bruce Smith: Smith dominated at right defensive end, often making the league's premier left tackles look pedestrian. He was the most consistent performer on the only team in NFL history to play in four straight Super Bowls. His 1990 to '99 sack total of 113.5 makes up the majority of his 200 career sacks -- a mark that no one else has yet reached.

8) Reggie White: The 1993 arrival of the "Minister of Defense" in Green Bay changed football as we know it: The Packers would never have made it to back-to-back Super Bowls without him, and because of him, folks started to see free agency as a viable way for organizations to seriously improve. The Hall of Fame defensive end posted seven double-digit sack seasons during the decade.

7) Troy Aikman: What to make of Aikman ... is it possible that No. 8 is underrated? Too often, we hear about his lack of stats, but the thing is, the Dallas offense rarely needed its quarterback to be overly prolific. And for that matter, Aikman responded when he was needed. Put another way, isn't it hard to argue with 90 regular-season wins, an 11-5 playoff record, and three Super Bowl victories in one decade?

6) Steve Young: I went back and forth with Young and Aikman at this spot. Aikman outperformed Young in big games, yet the 49ers' offense ran through Young, who was outstanding from 1991 to '98, leading the NFL in passer rating six times during that span. Both won Super Bowl MVP awards, but Young's two league MVPs give him the nod here ... though I really wouldn't mind a tie. On that note, we'd love to hear your take (@HarrisonNFL).

5) Deion Sanders: "Primetime" earns the nod as the top-rated defensive player of the era. Sanders consistently shut down one side of the field, and his eight return touchdowns in the decade made him a different kind of threat than any other player on this list. Sure, he wasn't an especially fierce tackler. But he was the guy who won the Lombardi Trophy in '94 and '95 -- with two different teams.

4) Brett Favre: Favre gets the nod as the best quarterback of the decade. The cannon-armed kid out of Southern Miss was the league's MVP from '95 to '97, which is enough to elevate him into the top five. The two things holding him back in our ranking: He played fewer games during the 10-year span in question than absolute legends Rice and Barry Sanders, and he didn't always come up huge in the postseason (against the best competition) like Emmitt Smith's Cowboys. Still, Favre is too often remembered for the way his career ended and not enough for the dynamic player he was in the '90s.

3) Jerry Rice: Rice ended the decade on the outs with the 49ers, which might lead some to think of him as a better performer in the 1980s. Bear in mind that Rice started off with 100 catches in 1990 -- a mark he surpassed three more times during the decade. In 1995, Rice set an NFL record with 1,848 receiving yards. Oh, and he added another Super Bowl ring during this time. Pretty good, if you ask me.

2) Emmitt Smith: So often, we hear about how this guy benefitted from solid offensive lines, but you might recall that three of the starters on that early '90s line weren't thought of very highly until Smith showed up. In one five-year span, Smith won four rushing titles, three Super Bowls, one NFL MVP and one Super Bowl MVP. But if that doesn't do it for you, consider this: He wasn't the only player to get carries with that unit, but none of the other Cowboys rushers ever approached that kind of production.

1) Barry Sanders: The top player of the 1990s is actually an easy choice. Sanders edges out Smith not because the Lions great's line was "poor" or any of that "woe is Barry" crap we hear. Revisionist analysts will attempt to add to the legend of Barry by resorting to such arguments, but he doesn't need it. Sanders was good enough on his own merits. Truthfully, the Lions of the '90s had a ton of solid players; Sanders was simply the best among them -- or anyone else. His 2,053-yard season in '97, 1,883-yard season in '94 and three other 1,500-yard seasons are testament to that.
Source:
By Elliot Harrison
http://www.nfl.com/news/story/0ap2000000361846/article/emmitt-smith-deion-sanders-among-top-nfl-players-of-the-90s