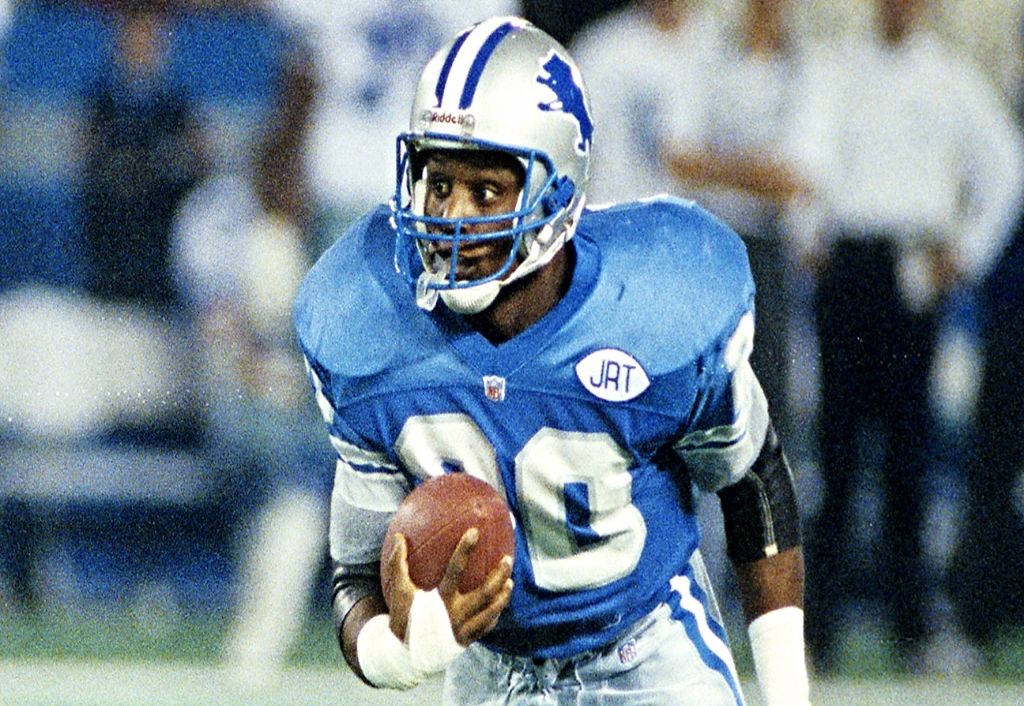 | | |
| --- | --- |
| Sep-26 | |
Barry Sanders had plenty of success vs. Chicago in 1989. (Getty Images)
You probably know Barry Sanders as one of the best running backs in NFL history, a man who made 10 Pro Bowls, who was named an All-Pro six times, a first-ballot Hall of Famer, and probably a guy who retired too early (but not before finishing as the NFL's second all-time rusher (he's now third behind Emmitt Smith and Walter Payton).

But 25 years ago, Sanders was just a 21-year-old rookie who was splitting carries with Tony Paige and Carl Painter (you're a better man than me if you remember those other names, though Paige scored 8 rushing touchdowns on just 55 carries for the Jets in 1985).

Already, the Lions, which had picked Sanders No. 3 overall that season, were terrible, en route to losing nine of their first 11 games before rallying to go 7-9 overall. The team was using the Run and Shoot offense under head coach Wayne Fontes and offensive coordinator Mouse Davis -- meaning life could have been made more difficult for the Heisman Trophy winner because a fullback and the team's tight ends weren't necessarily being utilized to block for Sanders.

Though Sanders wasn't used much as a pass-catching running back in that offense, he entered Week 3 of 1989 combining for 121 yards on 21 carries through the first 120 minutes of the season.

So, decent. But certainly not spectacular.

Then, this happened vs. Chicago on Sept. 24, 1989.




True, the Bears won big, and the storyline after the game was that they were undefeated and looking dominant. But Sanders was a definite sidebar, because for the first time in his career -- the first of 76 times in his career -- he exceeded 100 yards rushing, recording 126 yards and a touchdown on 18 carries.

After holding out during training camp, Sanders finally felt he was producing.

"I read blocks better this week," Sanders said after the game. "I felt I had a pretty productive day, but it could've been better."

Maybe so, but he also performed excellently against a Bears rushing defense that looked dominant early that year. Later in the season, Sanders repeated his excellence vs. Chicago, gaining 120 yards and scoring twice on 26 carries in an actual-to-goodness Detroit victory that ended the Bears' 11-game winning streak vs. the Lions. Taking some of the luster off that triumph, though, Chicago losing 10 of its final 12 games that year.

Even after that first performance vs. the Bears 25 years and two days ago, Chicago's defenders had figured out the worth of Sanders.

A selection from the next day's Chicago Tribune:

"Barry Sanders is a wide receiver in a fullback's body with the speed of a tailback and the moves of a 'Silky D' (Dennis McKinnon)," said Bears cornerback Lemuel Stinson. "He'll make a lot of people miss tackles. There was one time when everyone on our defense had a shot at him and missed."

Well, almost everyone. Stinson was referring to back-to-back plays in the second quarter when Sanders broke a total of seven tackles and eluded a couple more.

"Barry Sanders is as fine a running back as I've ever seen," Bears coach Mike Ditka said. "He reminds me of a guy we used to have, Walter Payton. He made us look bad."

"Every time he touched the ball, he did something spectacular," said defensive tackle Steve McMichael, who rarely says nice things about anyone. "I can`t say enough about him. When you've got a running back like that, you've got a hell of an offense."

And this:

"Lots of times, he put us in positions where we looked like the Three Stooges out there," defensive tackle Dan Hampton said. "Certainly he has 'star' written all over him. He made us look like a bunch of goofs."

By halftime, Sanders had gained 108 yards on 14 carries, but he suffered a hip pointer early in the third quarter and didn't produce the rest of the day. Still, it was quite an explosion for Sanders in the third game of his career, and comparing him to Payton wasn't necessarily a ridiculous notion.

"I appreciate the compliment, but it's unfair to compare me to Walter Payton," Sanders said, via the Tribune. "He played for 13 years and was very consistent. You can't really base that on one game. The great players in this league do it every game. I haven't done that yet."


Source:
By Josh Katzowitz | CBS Sports | September 26, 2014
http://www.cbssports.com/nfl/eye-on-football/24725475/remember-when-barry-sanders-rushes-for-100-yards-for-1st-time