BARRY SANDERS

NEWS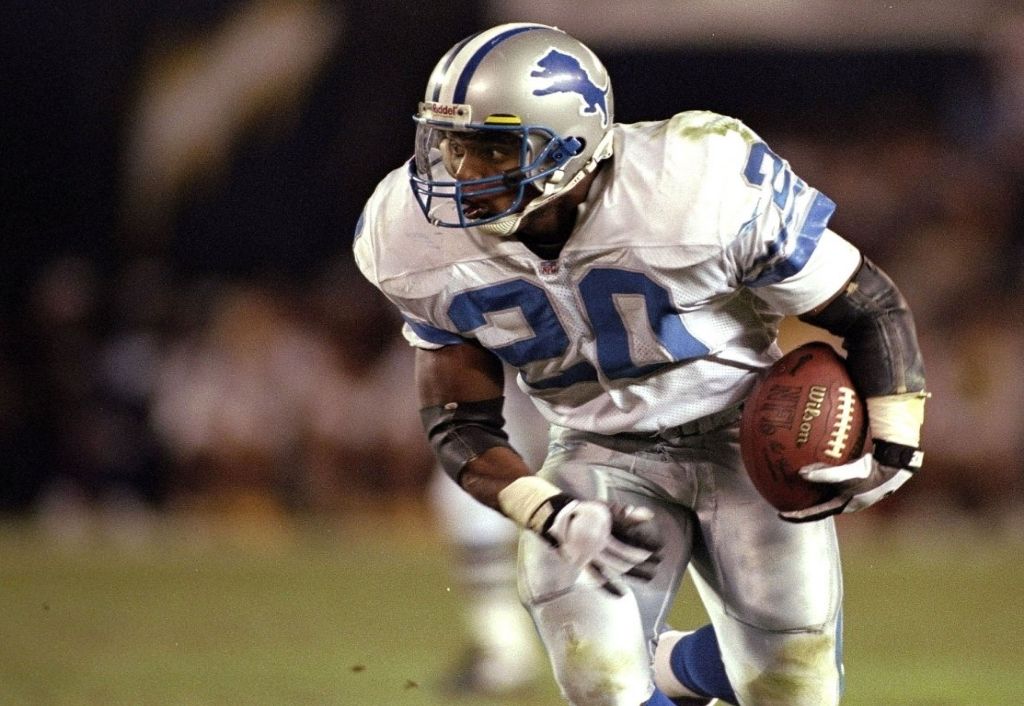 | | |
| --- | --- |
| Sep-29 | |
Dallas' DeMarco Murray has opened the NFL season with four straight 100-yard rushing games, including a monster game against the Saints on Sunday night: 149 yards rushing on 24 carries.
But Murray has a ways to go to set the NFL record.
Walter Payton in 1985, Fred Taylor in 2000, Deuce McAllister in 2003, Larry Johnson in 2005 and LaDainian Tomlinson in 2006 each rushed for at least 100 yards in nine straight games.
Marcus Allen had an 11-game streak in 1985-86.
And Barry Sanders had a 14-game streak in 1997. The Joe DiMaggio season.
When we think of Sanders, usually it's his jaw-dropping 1988 season at OSU, which makes almost any list of the greatest individual seasons in college athletics, any sport.
But Sanders' 1988 season at OSU might have been trumped by his 1997 season with the Detroit Lions.
The season opened inauspiciously, with Sanders gaining just 33 yards on 15 carries against the Falcons and 20 yards on 10 carries against the Buccaneers. Something of a slump, though Sanders did have eight catches for 102 yards against Tampa Bay.
But no one thought too much about it. Sanders already was an NFL superstar, having spent eight seasons with the Lions and accumulating 11,725 rushing yards. Sanders already was Hall of Fame-bound when he opened that '97 with two mediocre rushing totals.
Then came the greatest stretch of Sanders' glorious career.
Sanders gained 161 yards on 19 carries against the Bears; 113 yards on 18 carries against the Saints; 139 yards on 28 carries against the Packers; 107 yards on 25 carries against the Bills.
And Sanders was just getting started. In a 27-9 win over the Bucs, who had bottled him up in September, Sanders gained 215 yards on 24 carries. What followed was a remarkable nod to Sanders consistency, three straight 105-yard games -- on 24 carries against the Giants, 23 carries against the Packers and 15 carries against the Redskins. Sanders deviated from the norm the next week against the Vikings with 108 yards on 19 carries.
Then came a rousing finish to a rousing season. In the final five games, Sanders gained 879 yards, an average of 162 yards per game: 216 yards on 24 carries against the Colts, 167 yards on 19 carries against the Bears, 137 yards on 30 carries against the Dolphins, 138 yards on 19 carries against the Vikings and 184 yards on 23 carries against the Jets.
Sanders had posted a season of 2,053 yards rushing on 335 carries, an average of 6.13 yards per carry and 128.3 yards per game.
It wasn't the greatest individual season in NFL history. Or even the greatest by a running back. O.J. Simpson 1973, Eric Dickerson 1984, even Adrian Peterson 2012.
But Sanders' consistency is unrivaled. Fourteen straight 100-yard games. I don't know that it rivals Joe DiMaggio's 56-game hitting streak, but I don't know that it doesn't.
Marcus Allen's 11-game streak is the exact distance from Sanders' 14-game streak as Pete Rose's 44-game hitting streak is from DiMaggio's.
And there were no auxiliary effects on Sanders' season. His 1997 quarterback was Scott Mitchell, who currently is on The Biggest Loser, trying to lose over 100 pounds, and who proved himself to be rather pedestrian in the NFL.
Sanders' streak ended in the playoffs, when the Bucs held him to 65 yards on 18 carries, or if you want to count only the regular season, in the 1998 opener, when Green Bay held Sanders to 70 yards on 17 carries. Sanders rushed for 1,491 yards on 343 carries in '98. That would be his final season. He retired at the top of his game. Only Sanders and Sandy Koufax have stepped away while still dominant as ever.
Source:
By: Berry Tramel | NewsOK.com | September 29, 2014
http://newsok.com/barry-sanders-1997-season-shades-of-joe-dimaggio/article/5346667