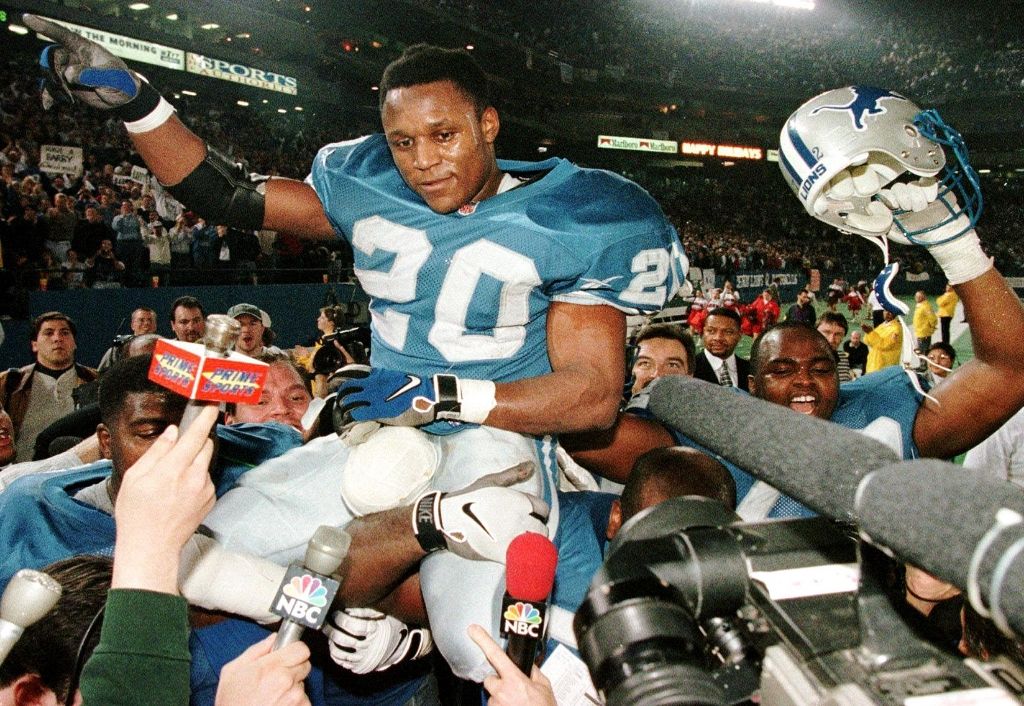 | | |
| --- | --- |
| Oct-07 | |
DEARBORN, Mich. -- Barry Sanders has a son of the same name in college and if he got the chance, he'd love to see Barry J. Sanders line up for the Detroit Lions one day.

Not that Sanders the father pushed football on his son. Sanders said Tuesday while doing promotional work for the Gridiron Glory exhibit at the Henry Ford Museum that his son was good at both baseball and football, but that football was of his own choosing.

But if it all worked out, yes, he'd love to see him wear the same jersey he once did.

"If his own path takes him to the NFL, takes him to the Lions, I would be giddy," Sanders said. "I would be giddy over that one."

Barry J. Sanders, though, is a long way off from that. As a redshirt sophomore at Stanford, Sanders has 29 career carries for 209 yards and a touchdown. He also has eight receptions for 52 yards. He is one of four players listed at "Or" on the depth chart as the Cardinal's starting running back along with Kelsey Young, Ricky Seale and Remound Wright.

Of the four, Sanders has the third-most carries but the second-most yards, and his average of 7 yards per carry is more than any other Stanford player with over five carries this season.

At 5-foot-10, 192 pounds, the younger Sanders is slightly taller than his father but around the same weight.

The elder Sanders, though, said the two rarely talk about football and even less about the NFL. If they do talk about the NFL, it is about different players currently in the league.

But Sanders, as a father, is happy with how his kid is doing at Stanford.

"He's in a great place, for many reasons," Sanders said. "He loves it out there. They had a couple tough losses this season but they have a lot to play for and he's had, even a couple Rose Bowls and what have you and just a great conference and a place where they love running the football and he happens to be a running back.

"So he's enjoying it."
Source:
By Michael Rothstein | ESPN.com | October 7,2014
http://espn.go.com/blog/detroit-lions/post/_/id/11661/barry-sanders-would-be-giddy-if-son-played-for-lions