BARRY SANDERS

NEWS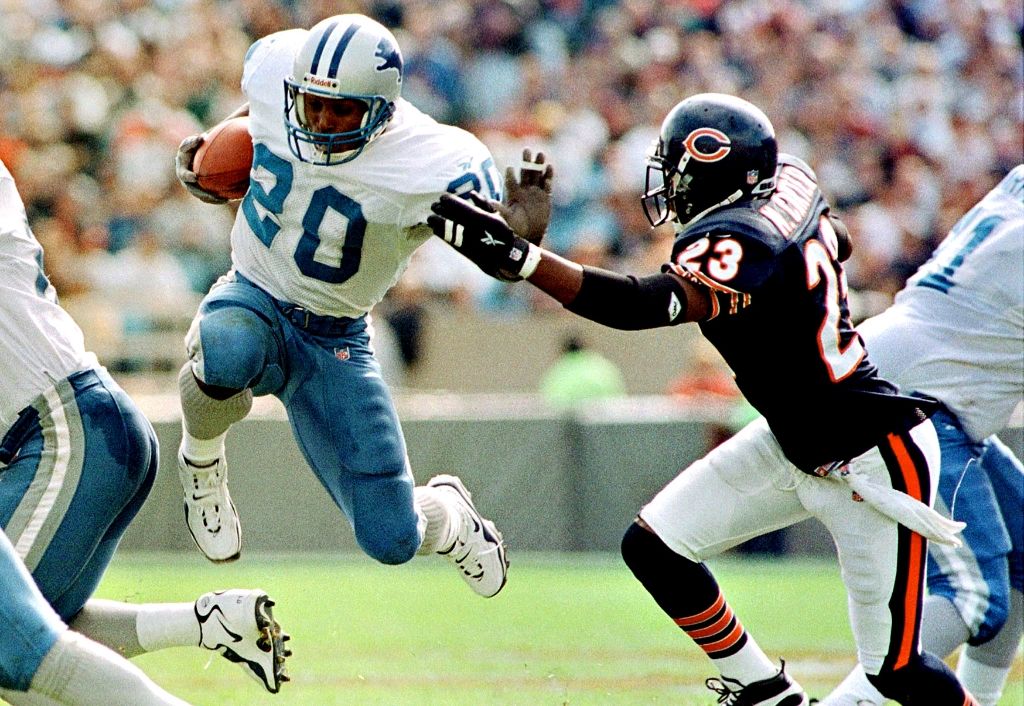 | | |
| --- | --- |
| Sep-14 | |
SAN DIEGO -- The Detroit Lions rushed for 26 yards on nine carries the last time they played at Qualcomm Stadium.

They needed only one drive to beat that mark in Sunday's game against the San Diego Chargers, and finished with 69 yards on 16 carries overall.
Although Detroit lost the game 33-28, it was encouraged by the re-emergence of the running game. And in particular, electrifying rookie tailback Ameer Abdullah.

Abdullah, selected in the second round of the NFL draft, finished with seven rushes for a team-high 50 yards, plus caught four passes for 44 yards. Toss in his work as the starting kick returner, and his 199 total yards were easily a team high.

His 50 rushing yards were the most by a Lions draft pick making his rookie debut since Barry Sanders rushed nine times for 71 yards against the Phoenix Cardinals in 1989. It was enough to make even the greatest receiver on the planet take notice.

"The guy has some shake-n-bake, man," receiver Calvin Johnson said. "He can get up and down the field for us."

Abdullah wasted no time flashing that shake-n-bake ability. He took his first career carry and veered right before sensing the hole to his left. So he cut back the run, and suddenly found himself in the open field, with only safety Eric Weddle standing between him and the end zone.

And the rookie juked the All-Pro out of his shoes en route to a 24-yard score.

Now that's one way to break into the league.

"It's definitely special," Abdullah said. "I've dreamt about playing in this league since I was 6 years old, and for my first (carry) to be a touchdown is special. I know my father is probably watching and smiling.

"But I would've traded that run for a win any day."

The Lions committed themselves to revamping the rushing attack after falling to 28th in the league last year, and the early results were encouraging. They finished with only 69 yards, but that was a product of running off just 47 offensive plays, and spending much of the fourth quarter trailing.

Their 4.3 yards per pop was perfectly respectable.

Joique Bell started the game and finished with six carries for 14 yards, while rookie Zach Zenner got his feet wet with two carries for 6 yards.

Theo Riddick, listed second on the Lions' depth chart, did not carry the ball and did not appear to enter the game at all -- on offense, anyway -- until deep into the fourth quarter. Though he did catch a late touchdown pass that drew Detroit to within the final margin.

But it is Abdullah who looked like the Lions' best tailback in Week 1, just as he has throughout the offseason. And it might be only a matter of time before he overtakes Bell as the Lions' starting tailback.

He might not be Barry Sanders, but the production continues to speak for itself.
Source:
Kyle Meinke | mlive.com | Sep 14, 2015
http://www.mlive.com/lions/index.ssf/2015/09/ameer_abdullah_has_best_rookie.html