BARRY SANDERS

NEWS



| | |
| --- | --- |
| Dec-05 | |
At 8-4, Detroit certainly looks legit, but the final four games will be very telling for this team
Are the Detroit Lions legitimate Super Bowl contenders?
After Sunday, you have to say yes. Do you believe it?
I know the New Orleans Saints aren't a good team, but their dynamic offense is tough to slow down, let alone stop -- especially at home. Yet the Lions were more than up to that challenge this week as they went into the Superdome, rendered Drew Brees ordinary and left with a victory that has them at 8-4 and still in first place in the NFC North.
The Lions picked off Brees three times and held him to a passer rating of 63.3 as the defense proved that it might be ready to make a real playoff push. This is a Lions team that came into the game ranked 15th in both total defense and scoring defense, but also had questions about whether it was a unit good enough to win big in the postseason.
It is a unit that has been slowed by injuries this season, especially to top pass rusher Ezekiel Ansah, who has yet to get a sack this season after getting 14.5 last season. So as he gets healthier and back playing like he did a year ago, the defense will be even better. They have also had others miss time, including DeAndre Levy, their best linebacker. Give defensive coordinator Teryl Austin credit for keeping that unit together.
While we're talking about coaching, how about giving Jim Caldwell some credit. There was some talk that he would be fired after this season since new general manager Bob Quinn took over last spring and didn't hire him. Now that's far from the case and Caldwell actually could be in the conversation for Coach of the Year.
Caldwell took the Indianapolis Colts to the Super Bowl and did a nice job when he was a college coach at Wake Forest. Is it time to say he's just a good coach?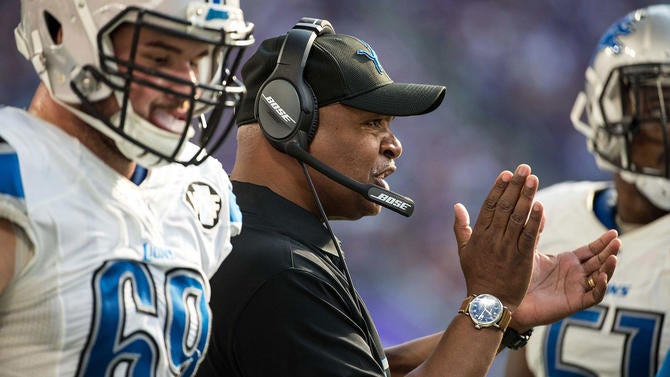 We do know Matthew Stafford is a good quarterback and the doubters can't deny that anymore. I always thought he was underrated -- you can look it up -- and now he's playing good football without Calvin Johnson to show that he can do it with others.
Stafford threw for 341 yards and two touchdowns against the Saints as the Lions won their fourth straight game. They had previously trailed in the fourth quarter of all their games, but they didn't in this game, which is another sign of progress.
The Lions have won four straight but the closing four games will tell us a lot. After a home game with the Bears, which they should win, they play at the Giants, at the Cowboys and close with a home game against the Packers.
If they go 2-2, they should be division champs. If they do, they are Super Bowl contenders. Yes, the Lions.
Source: Pete Prisco | cbssports.com | December 5, 2016